Are you being treated for high blood pressure? You can have your blood pressure reviewed by your GP without visiting the surgery
To keep you healthy, your GP reviews your blood pressure on a regular basis. Submit your blood pressure for review via our simple online form - or via our eConsult iPhone app.
To submit your review, add at least three readings and answer a few quick questions. Your practice will contact you by the end of the next working day with a response. How can I get my blood pressure checked?
Are you currently being treated for high blood pressure at Milestone Surgery?
The eConsult hypertension app
If you're a registered patient at Milestone Surgery and have been diagnosed with high blood pressure, you can use the free eConsult iPhone app to track your blood pressure readings. You can even sync them from your phone or monitoring device. You'll also get optional reminders about your next review. Download the app or learn more in the FAQ.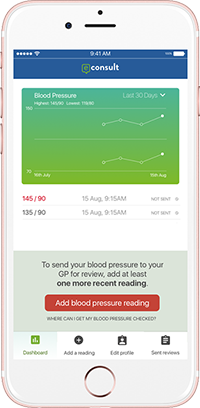 Where can I get my blood pressure checked?
If you don't have a blood pressure monitor at home, you can often check your blood pressure in your local pharmacy. Or come into the surgery and we can arrange for it to be checked.